Screw Posts | Binding Posts
| No SubCategoryID and No DisplayCategoryID | Match Found for SuppliesMixed | Match Found for SuppliesMixed| We're not null or empty| We are an integer| We are one of the top two categories| Our Category is Binding Supplies
Screw Posts | Bindin...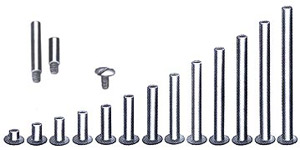 These aluminum binding screw posts provide an easy way to attach documents, swatch books, scripts, photo albums, catalogs and more. We offer these screw posts in various sizes from 1/8'' up to 4'' in thickness. The post features an inside thread with a cap at the end. The screw comes with a slot head and threads into the post easily. The posts are approximately 3/16'' in diameter and slide easily into a 1/4''. The screw head is 7/16" in diameter and 1/16" thick. The screw thread is #8-32. We also have extension posts that allow you to increase the posts capacity by extending the length of posts by attaching the extensions between the post and the screw. We offer screw post extensions in 4 sizes 1/4'', 1/2'' 3/4'' and 1'' lengths. All are packaged 100 per box.

WE OFFER DISCOUNT PRICES AND A WIDE SELECTION OF PAPER PUNCHES & PAPER DRILLS



FREE SHIPPING ON SCREW POST ORDERS OF $100.00 OR MORE.
Free Shipping To One Location.
Item Number
Description
List Price
Price Per Box
1-4
Price Per Box
5+
Quantity