Heavy Duty Binding Machines
Heavy Duty Binding M...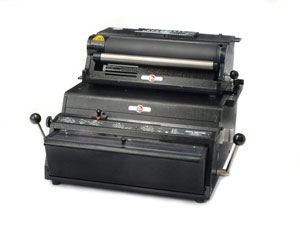 These Heavy Duty Binding Machines are a great way to increase productivity. Many of these machines come with interchangeable die capability which allows you to punch the paper hole patterns for various types of binding -- just slide in one of the quick change dies and you can punch the hole pattern for Coil Binding, Comb Binding, VeloBind, Wire Binding, ProClick and 3-Hole Punching. (Dies are sold individually and not all manufacturer's offer all of these punching patterns.) These punching machines can punch as many as 50 sheets at a time depending on the hole pattern. We also offer a wide range of finishing modular units that allows you to bind or close various binding methods. Among the various modular units are Coil Inserters, Wire Binding Closers, Comb Binders that allow you to attach them to many of the power punches. Also available is a Manual and Electric Paper Lift and an Automatic Paper Ejector and Stacker for increased productivity.

CUSTOM HOLE PUNCHING DIES ARE NOW AVAILABLE TO MEET YOUR SPECIFIC NEEDS. CALL FOR A QUOTE.

ONE STANDARD INTERCHANGEABLE DIE IS INCLUDED WITH PURCHASE OF ANY OF THESE HEAVY DUTY PUNCHING MACHINES.

SALE PRICES AND FREE SHIPPING
FREE SHIPPING ON ALL HEAVY DUTY BINDING MACHINES.